My Radio Silence –
First, Its been a long time since I've posted an update, or written anything on my entire site for that matter.  Its been a long, tough couple of years for me, on a personal level.  More in a minute.  I'd like to offer some background to perhaps explain a little, and let athletes know (current, past and prospective alike) that its not because I've had nothing to say.  In fact, it's quite the contrary. I have not had the time and energy to devote to writing.  I've been actively coaching, training moderately, and following interesting, up and coming careers (e.g. Lionel Sanders, Summer Cook, Flora Duffy, et. al.)
Reason –
Since mid 2015, my mother's health began to rapidly decline. She was in a position where she needed lots of help, and it was mostly on me to provide it.  So of course, I did.  I also have two young kids. My son was born in May 2016. Then, we lost my Mom a year ago, in Oct 2016.  There has been a void in my life and healing to do since then.  As anyone that has been through this knows, its not easy.
Updates –
On a positive note, one of my hardest working athletes, Harper, just took 1st in his AG and 3rd OVERALL at the HITS Palm Spring iron-distance triathlon on Dec 3rd!   Harper reaped the benefits of his diligence and focus once again.  Way to go Harper!  I'd like to write a whole blog on Harper's focus, consistency, trust in working my plan, diligence.  But you get the idea…
Emily had a successful first season (that's right – first season), and qualified for Duathlon Word Championships, in Odense, Denmark!   Mission #1 accomplished. On to the challenge ahead, a top finish at Worlds in July 2018!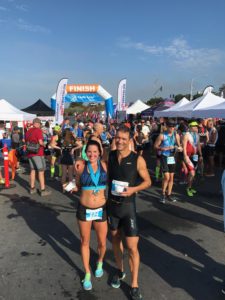 Looking forward –
I hope to be able to devote time to my own training and explore limits, training theories & practices going forward. I'll continue to learn about the overlap and profound impact of  food, health, and fueling with performance.  As I learn more and more, I've come to better appreciate the truly profound and direct impact of what you eat upon your underlying health, fitness and performance.  (These are distinct and separate, with health of course being the most important.) I've been trying different approaches on myself (and a few athletes) now for six years, and I've settled on what I believe is the BEST approach. I can't wait to write more about it soon.
Train on.